Samsung Galaxy Watch 4 Classic R890 46mm Black
Samsung Galaxy Watch 4 Classic R890 46mm Black
Regular Price
£360.50
Special Price
£295.00
Save £65.5
Holistic sleep analysis
Track Heart Health
A new day, a new watch face
Rotating Bezel Feature
Order in the next 10:34:12 for next business day shipping
Product Description
DESIGN
A classic
that's truly
timeless
DESIGN
This rotating bezel turns more than heads
Some looks are timeless, like the Galaxy Watch4 Classic's rotating bezel and vivid screen. The refined design brings sophistication to your wrist, and its high-end stainless steel materials express its powerful and intuitive functionality.
BAND
Strap in and
start moving
Stay comfortable all day long with the Ridge Sports Band. Its fluoroelastomer material keeps the band durable and sweat-resistant while maintaining a firm fit on your wrist to suit your active lifestyle.
WATCH FACE
A new day. A new watch face.
A silver Galaxy Watch4 Classic device with a black band and its various watch face screens can be seen.
Choose between analogue or digital watch faces with a variety of backgrounds, fonts and colours to match your tastes, the weather or the occasion. Spice up your character watch faces with AR Emojis to express your style, while animated graphics show what you're up to, like running or listening to music.
FITNESS
Healthy
starts here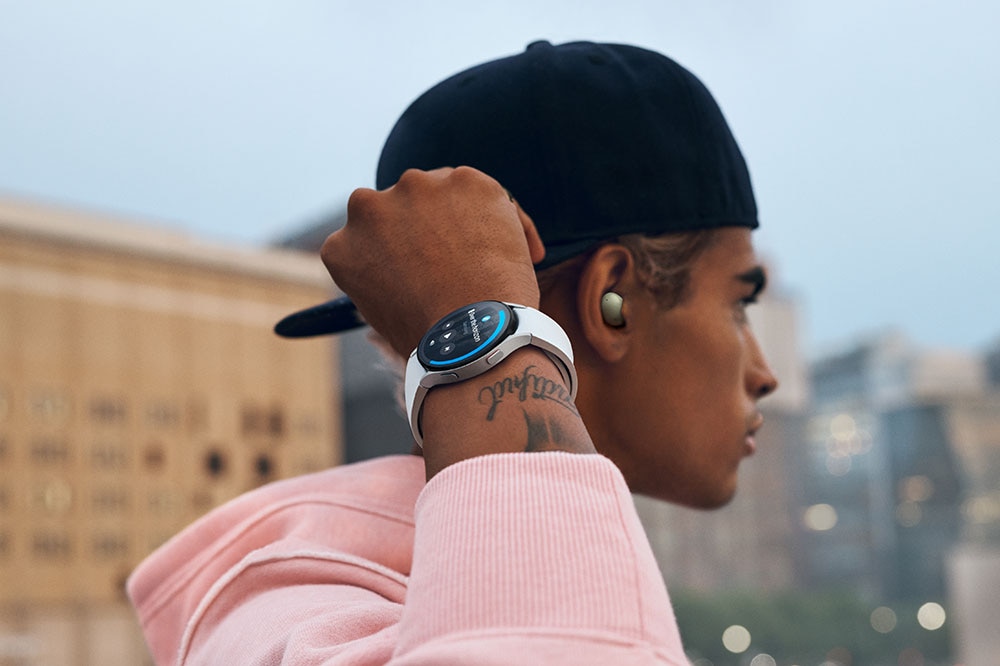 BODY COMPOSITION
Don't just listen to
your body. Know it.
Track your fitness progress with our first smartwatch that conveniently measures body composition. Get to know your body fat percentage, skeletal muscle, body water and more to achieve your goals. The Samsung BioActive Sensor and our fastest chip brings the biggest innovation to Galaxy Watch yet.
Get a BIA measurement using just two fingers in 15 seconds. Anytime, anywhere.
The new Samsung BioActive Sensor captures your body composition in real time to inform you as you manage your health goals.
DAILY ACTIVITY & FITNESS TRAINING
Name a workout. It can track it.
Track your activities and fitness scores on your watch and phone. Count steps, check calories, and stay on the grid with GPS. Galaxy Watch4 Classic detects physical activity to track your routines and supports more than 90 exercises for a more accurate report of your workouts.
The front of a Galaxy Watch4 Classic with a green band is shown, and its watch face displays "3rd place" in a walking Group Challenge with friends. Around the watch are diverse people cropped in a circle. There are text bubbles on the top left and bottom right, each pointing to its speaker.
Enjoy every step you take with your friends and family with the Galaxy Watch4 Classic. Track your steps and compete with friends in a fun competition through a live message board. Challenges come with commemorative badges and a point system to make exercise fun, motivating and socially rewarding.
HEALTH
A watch that's watching out for you
BLOOD PRESSURE & ECG
All the data your heart desires
Meet the Samsung BioActive Sensor that measures ECG and blood pressure in real time. After initial calibration, the sensors quickly check your blood pressure. You can also check abnormal heart rate and rhythm through ECG and send data straight to your phone to be easily shared.
Measure blood pressure using an Optical Heart Rate Sensor known as the PPG Sensor.
Measure ECG using an Electrical Heart Sensor.
ADVANCED SLEEP
The most holistic sleep analysis on Galaxy watch
A silver Galaxy Watch4 Classic device is shown with a silver band tied round and its watch face displaying the sleep tracking feature.
The sleep tracker detects and holistically analyzes your sleep stages while you rest. Improved measuring options let you check your blood oxygen levels and snoring patterns (not saying you do). Plus, get advanced insights from the National Sleep Foundation for better sleep quality and duration.
Product Specification
Specification

| | |
| --- | --- |
| Model Number: | R890 |
| EAN: | 8806092520073 |
| Brand / Manufacturer: | Samsung |
| Main Colour: | Black |
This website may not display correctly
using Internet Explorer 11
Please update to the latest browser version
for a better site experience.