Haden HK144W 48cm Static Tall Fridge Freezer - White
Haden HK144W 48cm Static Tall Fridge Freezer - White
Free 2 Year Warranty!
Energy Rating (A-G): F
2 Safety Glass Shelves
H1440 x W480 x D530 mm
2 Adjustable Glass Safety Shelves
Product Description
The HK144W fridge freezer from Haden has a 140 litre capacity, some handy features, and a compact design, making it ideal for smaller kitchens.
The Haden HK144W is a high quality fridge freezer that is perfect for any home. With its static function, this fridge freezer is easy to use and maintain. It also has a 48cm width, making it ideal for smaller kitchens. Plus, the white finish gives it a modern look that will complement any décor. The Haden HK144W 48cm Static Tall Fridge Freezer is perfect for storing your food and drink. It has a 44 litre capacity fridge and a 4 litre capacity freezer, making it ideal for small kitchens or apartments. The white finish will look great in any setting.
Handy Features
Are you having to spend hours defrosting your fridge freezer every month? The HK144W features clever LowFrost technology which reduces ice build-up by half. This means valuable space isn't taken up by lots of ice while maintaining energy efficiency.
The spacious fridge section has 89 litres to fill with tasty food, while two adjustable shelves give you plenty of options for arranging your groceries. Plus, they're made of glass which means you can see what you need at a glance. A salad crisper underneath the shelves helps to keep your vegetables fresh and crunchy.
Three balconies on the fridge door allow you to arrange tall bottles, cartons, jars, and smaller items like butter and cheese. You can grab anything you need quickly – even more so with the appliance's interior lighting.
The 51 litre freezer is located below the fridge, where you can pack in lots of produce for a later date. Three clear drawers let you arrange your frozen goods easily, and the four-star rating means you can freeze fresh food safely for up to 12 months.
Added Extras
At just 50cm wide, the HK144W is the ideal appliance for couples or small families, or those with smaller spaces. Thanks to reversible doors, you're able to place this model anywhere to suit you. The perfect fridge freezer for any home, the Haden hk144w 50/50 fridge freezer is efficient and reliable. It has a large capacity and is perfect for those who want an affordable and practical option. This fridge freezer is the perfect addition to any home. It has a 50/50 split, meaning you can use it as both a fridge and a freezer. Plus, it comes with a host of features that make it easy to use. The Haden hk144w is energy efficient, so you can save money on your electricity bills. It also has an adjustable thermostat, so you can customize the temperature to suit your needs. The Haden hk144w 50/50 fridge freezer is the perfect appliance for any home. Its sleek design makes it a great addition to any kitchen, and its functionality ensures that you'll always have enough storage space for your food.
Featured in a classic white, this Haden fridge freezer offers the compact answer to all your storage needs. Add the freestanding HK144W to your basket today.
| | |
| --- | --- |
| Brand Name | Haden |
| Number of Freezer Baskets | 3 |
| Weight (Approximate) | 36 kg |
| Manufacturer | Haden |
| Height | 144 cm |
| Colour | White |
| Width | 48 cm |
| Depth | 53 cm |
| Energy Efficiency Class | F |
| Installation Type | Freestanding |
| Defrost Type | Static |
| Net Total Capacity - ltrs | 140 Ltrs (gross) |
| Net Refrigerator Capacity - ltrs | 89 Ltrs (gross) |
| Net Freezer Capacity - ltrs | 51 Ltrs (gross) |
| Number of Refrigerator Shelves | 2 |
| Number of Refrigerator Crispers | 1 |
| Number of Refrigerator Door Bins | 3 |
| Colour of Drawers | Clear |
| Reversible Doors | Yes |
| Lighting Type | Bulb |
| Star Rating | 4 Star |
| Product Type | Fridge Freezer |
| Shipping Height | 151.7 cm |
| Shipping Width | 51 cm |
| Shipping Depth | 56 cm |
| Features | Removable Door Seal |
| Annual Running Cost | £193 (based upon av. figure of 7p be kwh Inc. VAT) |
| Number of Freezer Drawers | 3 |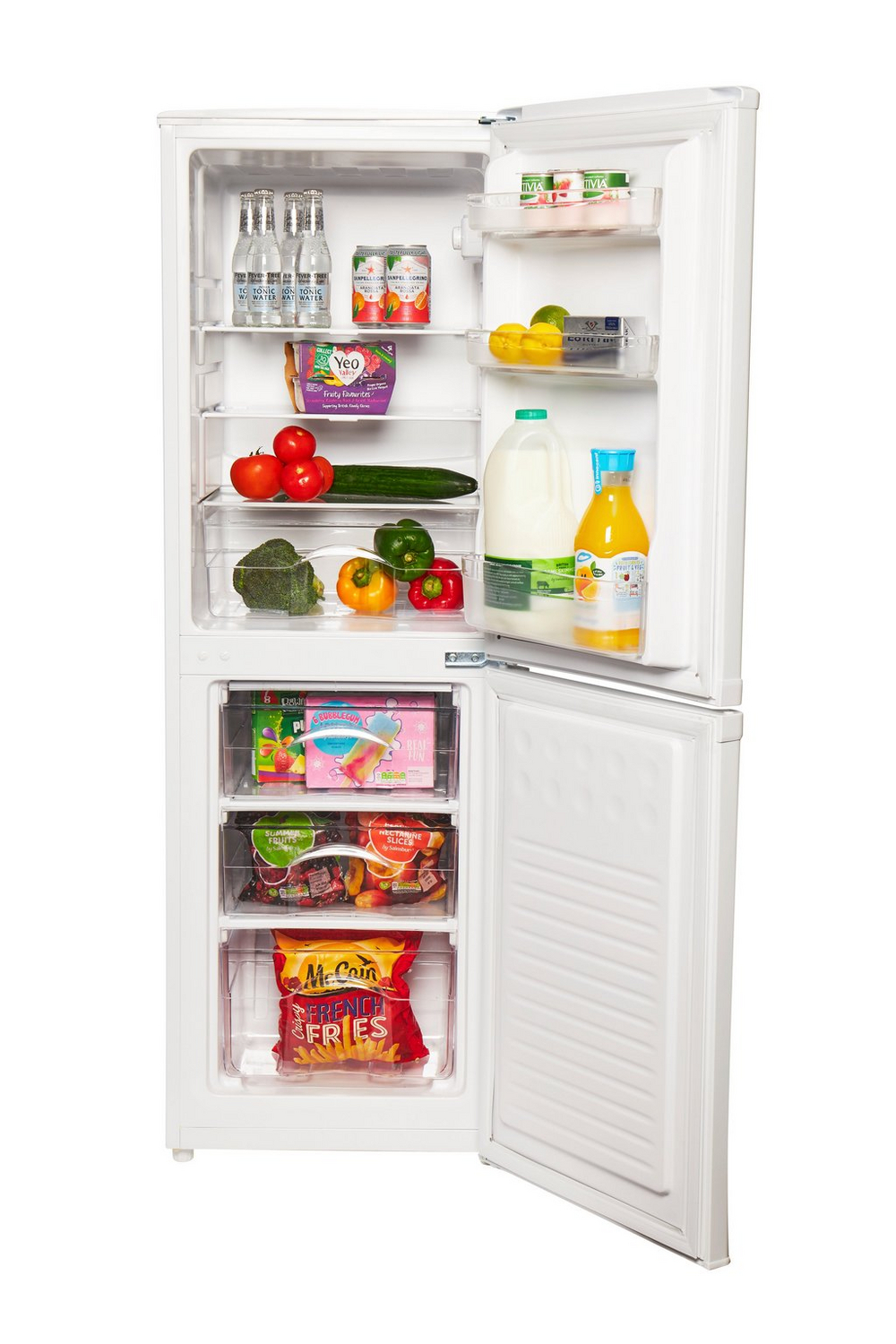 Product Specification
Specification

| | |
| --- | --- |
| Model Number: | HK144W |
| EAN: | 5021961197429 |
| Weight (kg): | 36.000000 |
| Brand / Manufacturer: | Haden |
| Main Colour: | White |
This website may not display correctly
using Internet Explorer 11
Please update to the latest browser version
for a better site experience.